SOPHIE POWER
THE JOURNEY FROM PREGNANCY TO PERFORMANCE
Sophie Power is a mother and ultra marathon trail runner, who was catapulted in to the international spotlight when a photograph of her breastfeeding her infant son during UTMB in 2018 went viral. Since then, Sophie has used her platform to talk about women's health and the importance of running to maintain physical and mental welbeing for all women.
Over the past few months we've followed Sophie's journey from the final month of her pregnancy through the birth of her daughter, and documented her steps to recovery from the huge physical changes of pregnancy and labour. We take an honest look into the pre and post natal challenges facing women who want to start and grow their families without compromising their goals. While positive images of female runners are commonplace, we're taking the important step of addressing the often unspoken barriers that women face - both physical and mental.
As Sophie discusses in her film, it can be difficult to prioritise your own health above family, work or social commitments, particularly with the additional stresses of the Coronavirus pandemic. But with reports of women bearing a disproportionate amount of the additional pressures, it is crucial to make that bit of time for yourself to take care of your physical and mental health. Make time for your daily run, and find the #timetofly.
THE MACH 4
IN DETAIL
Learn more about the technology behind the MACH 4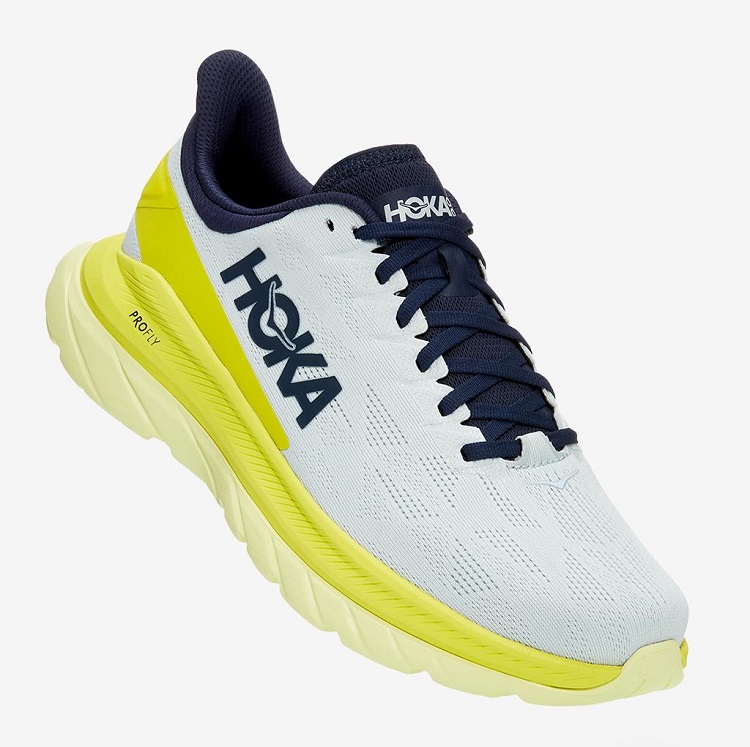 ANATOMICAL ACHILLES
CONSTRUCTION
PROFLY™ MIDSOLE
Gives a cushioned landing and propulsive toe-off
EARLY STAGE META-ROCKER
Offers a smooth ride
PROFLY™
Midsole gives a cushioned landing
RUBBERIZED EVA OUTSOLE
Provides lightweight ground contact and responsive cushioning
ENGINEERED MESH CONSTRUCTION
Delivers breathable comfort

FLY
RESPONSIVE CUSHION,
ENERGETIC RIDE