Cushioned for long days. Light enough for race day. The Rincon has redefined how much cushion we thought was possible for a lightweight shoe; it's also redefined how lightweight we thought one of our cushioned shoes could possibly be. With an all-new ultralight and responsive HOKA foam, plus a refined upper for improved performance, the newest version of the Rincon is a game-changer –again.
We've long been known for its extraordinary weight-to-cushion ratio, but the Rincon 3 takes that to another level: not only does this shoe have unique HOKA cushion and ride characteristics, but it's one of the lightest shoes we've ever made. It's downright fast, if you want it to be.
WHAT'S CHANGED
FOR THE RINCON 3
A new upper and other redesigned materials provides weight savings of 0.3 ounces compared to the Rincon 2.
Asymmetrical tongue and thinner pull tab are designed to provide extra comfort.
Vented-mesh upper is designed to save weight and improve breathability in this lightweight classic.
Previous
Next
THE RINCON 3
IN DETAIL
Learn about the technology behind the RINCON 3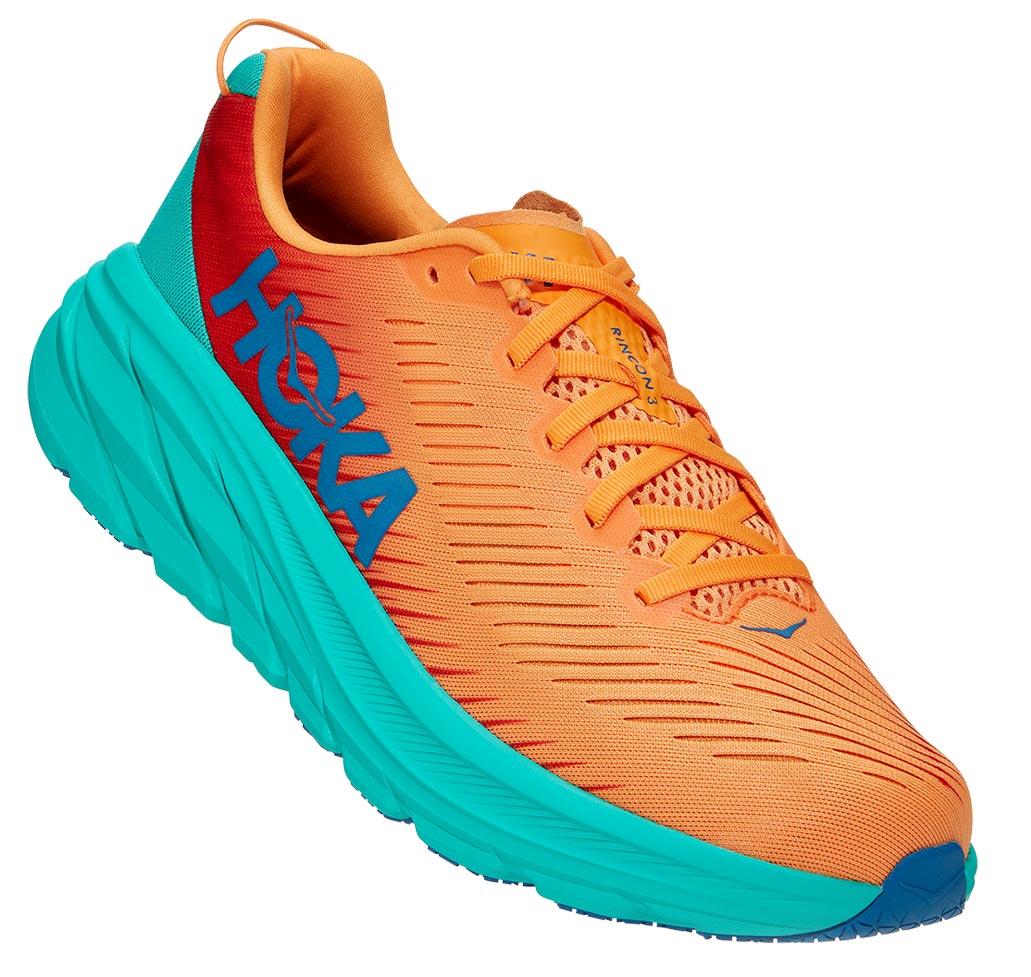 VENTED MESH UPPER
Designed for lightweight breathability
COMPRESSION-MOLDED EVA MIDSOLE
Designed to provide an incredibly lightweight take on HOKA's signature cushion
EARLY STAGE META-ROCKER
Designed for efficient turnover through each footstrike

GLIDE
SIGNATURE CUSHION,
SMOOTH RIDE

Be start-line ready with our lightest Rincon yet. Experience redefined running speeds and an ultra-light feel with the all-new HOKA ONE ONE Rincon 3.
Whether you're looking for running shoes to guide you through easy recovery days or to help you smash your personal best, the Rincon 3 provides all the performance without the added weight.
Engineered with a feather-light midsole for an energetic ride, signature cushioning for long training days, and a refined upper for improved performance – you can set your perfect pace without sacrificing your feet to the pavement. Geared up for giving you a smooth glide through the city streets and supporting you with your marathon miles, the Rincon 3 is the lightest of our running range. Redesigned with an up-tempo silhouette to handle intense speeds, and with ultimate breathability and ample cushioning, the HOKA Rincon 3 will support you in comfort until your very last stride.
Experience a uniquely-HOKA ride and be one step ahead of the game for race day with your running shoes.  Ready to feel the speed of light with the new HOKA Rincon 3?