As the trail running world prepares to descend on Chamonix for the annual jewel in the ultra-trail crown, rising French star Mathilde Sagnes has her sights set firmly on the 56k event as part of her preparations for the inaugural World Mountain and Trail Championships in Thailand in November.
"Initially I didn't plan to compete in Chamonix," says the 25-year-old from the Tarn-et-Garonne area, some 90k north of Toulouse in southern France. "But after talking to my HOKA teammate Audrey Tanguy, she told me UTMB® is the Olympic Games of trail and as soon as I heard that, I wanted to be part of the event."
"After looking closely at the race calendar," she explains, "my coach and I decided this wonderful race could be included in my season, so I'm very excited to race there."
"At 56k, OCC is the shortest race at the week-long event," she continues "so it's the closest to the distance I'm used to racing over. The landscape looks wonderful and the atmosphere will be amazing so for me it's another great Time to Fly with HOKA!"
Mathilde is still in the foothills of her mountain racing career, and the gruelling trip from Osieres in the Swiss Valois region to the race HQ in Chamonix will test her to the limit, but she has shown her fearless side countless times already throughout a burgeoning career.
"I love having challenges," she beams, "it makes life more exciting and thrilling. In fact, the bigger the challenge the more excited I am to try it!
"One of my biggest challenges was going to study in the USA," she says, reflecting on heading across the Atlantic to an athletics scholarship at the University of Portland in Oregon in 2017.
"I knew nothing about that huge country and my English was very bad, but I am very tenacious, when I have something in mind, I do everything I can to achieve it – although sometimes that can be a bit of a disadvantage!"
That tenacity brought Mathilde top-5 finishes in the French Trail Championships in 2019 and 2020 and, so far in 2021, her progress shows no sign of slowing. The OCC® and the World Trail Championships will be important indicators of where she sits within the hyper-competitive trail running scene.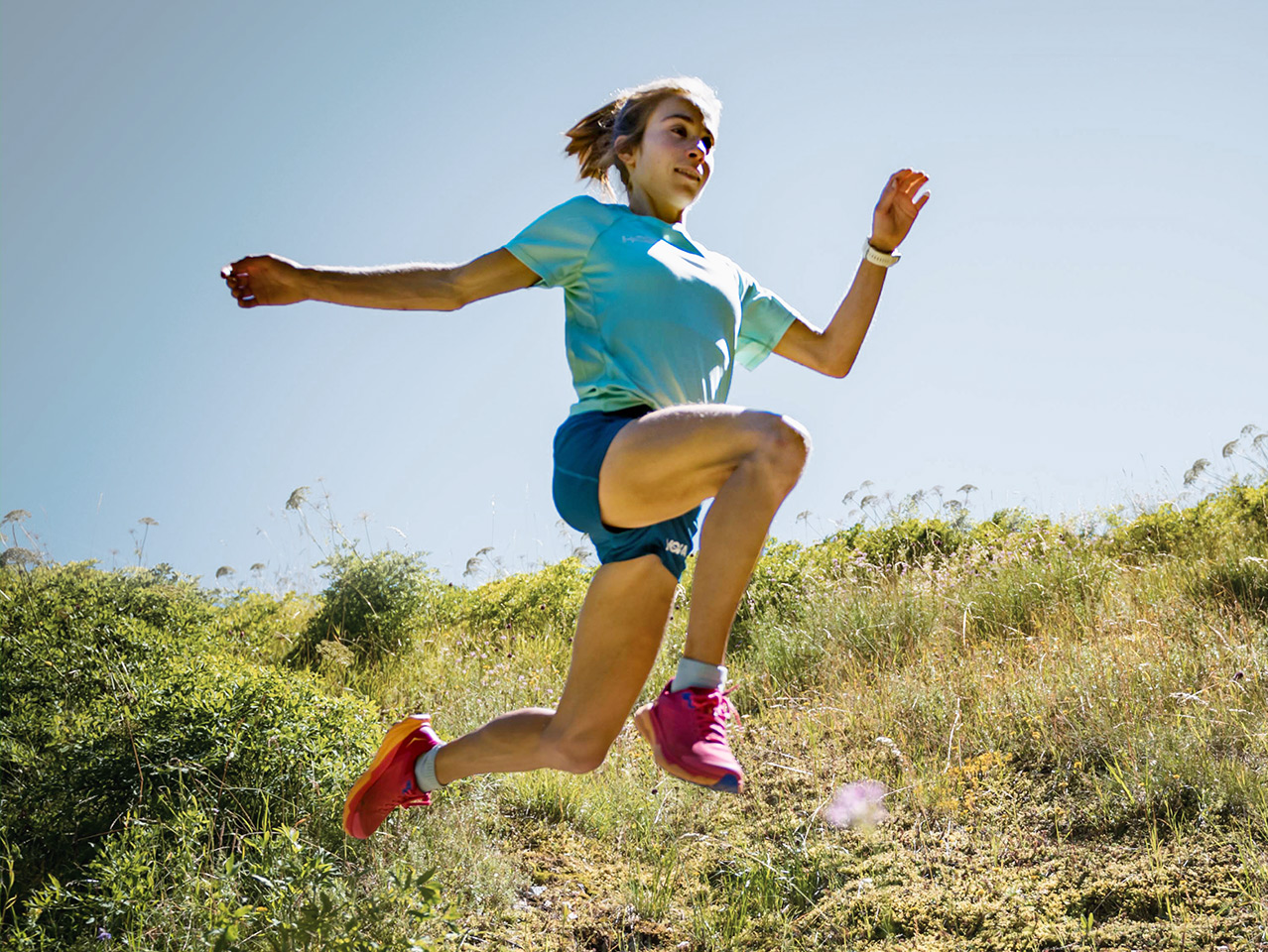 "
I love challenges

, it
makes life more exciting.
In fact, the bigger the
challenge the more
excited I am to try it!"
Now happily settled back in France after her American adventure, Mathilde combines training for the biggest trail races in the world with her full-time job developing tourism in the picturesque Department of Lozere, around 250k from her hometown of Montauban.
"My goal is to improve the tourism to this area by developing outdoor sports," she explains, "and coming up with trail running itineraries is my favourite part of the job."
Naturally creative, Mathilde likes nothing better than to end her working day with an easy mountain bike ride or run, which energises her for her favourite pastime in life away from the trails: cooking.
"It's probably my biggest passion after sport" she says. "I can do it for hours without even noticing. Cooking dessert is my secret sin!"
"I love being creative when I cook, just as I love being creative when I run," she elaborates. "I almost never follow a recipe. I always make a different dish, experimenting with new ingredients, changing proportions, the way of cooking, the spices. I think of cooking as a huge playground where creativity and daring are the key words."
Mathilde is confident her training has had all the right ingredients to cook up strong finishes at OCC® and the World Championships, inspired by the enormous courage of her aunt, who has battled cancer for the last five years.
"She's a huge inspiration for me," she says. "Whenever I am having a tough time, I think about her and everything she has endured and that helps me rationalise my problems and gives me energy."
With such motivation to drive her forward, expect to see Mathilde's name featuring high on the results lists of the world's top trail races in the coming years.
"My motto is 'ne laisse personne te convaincre que tes rêves sont trop grandes'," she says in conclusion. "Don't let anyone convince you your dreams are too big."