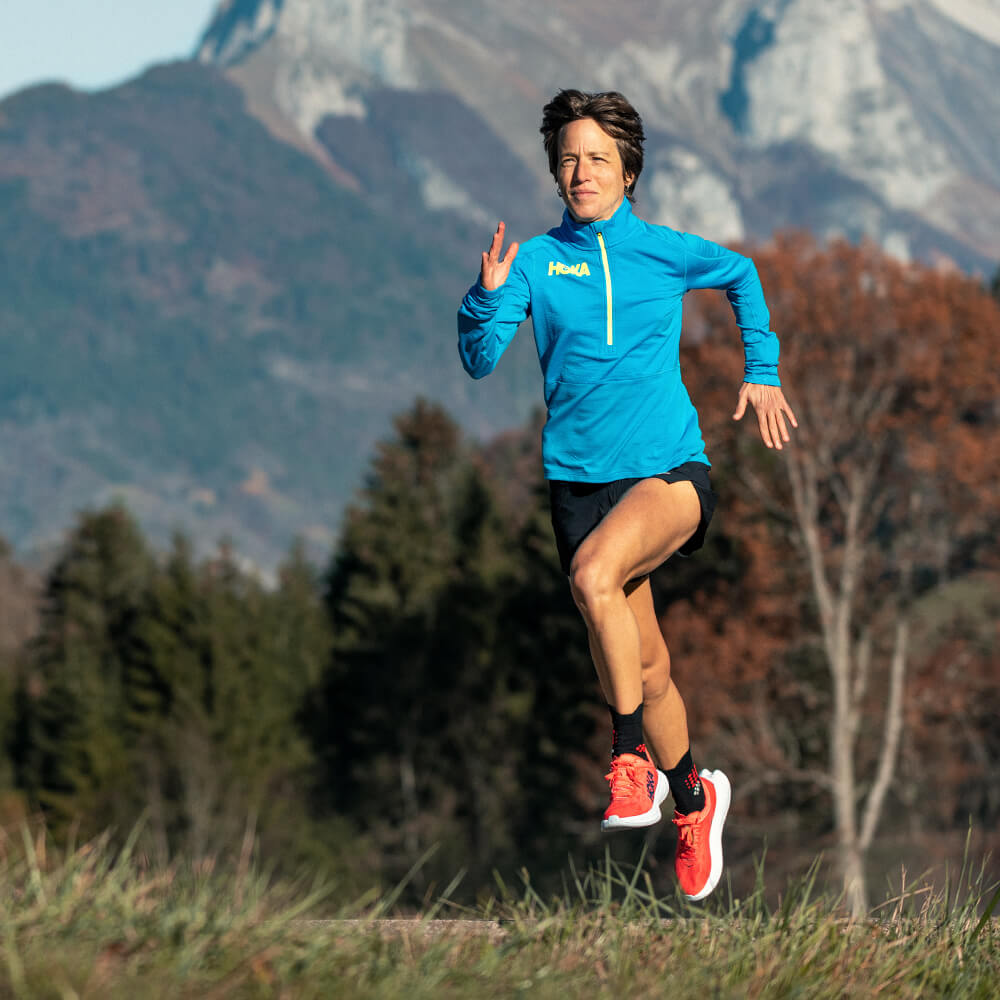 4 MINUTE READ
Audrey Tanguy
We catch up with HOKA athlete and
trail champion, Audrey Tanguy.
Introduce yourself! Where are you from, how long have you been running, and how long you've been running with HOKA?
My name is Audrey, I am 33 years old. I grew up in the French Alps, in a small village, Saint Pierre d´Albigny. I come from a family of sportsmen, so I started running a long time ago! I remember getting a pair of running shoes for Christmas when I was 10 years old. My mom and sister have been running everyday for years, so it's something we've always shared together. It brings us together, and when we are apart, it allows us to find ourselves. It has now been almost three years since I joined the HOKA family ... and I am delighted!
How did you get into trail ultrarunning?
At the start, it is true that I started by running, certainly in the mountains but on the road. I was just following my mom. It was my sister who first ventured out onto the trails ... and we followed her! It was about 15 years ago. As for the competition and especially the ultra Trail competition, it came much later. At first I didn't want to hear about competition, it stressed me out too much. It was only after crossing paths with a certain Antoine Guillon, during an internship, that I said to myself: "why not give it a try? ". It was in 2017.
Tell us about TDS 2018 and 2019 - how did those races go?
My back-to-back TDS wins were amazing! The first year I wasn't expecting that at all so it was great. The second year I was keen to do well because I was more expected, and as the course had changed it was not the same race. I was a little afraid of the distance / elevation ratio but in the end everything went well. Like in 2018 I had to fight with two, then a competitor (Hilary Allen) until the end and that's also what made me very happy with my race. Holding on mentally and getting past the pain and the doubts gives me a lot of pleasure.
Tell us about how training and racing has gone this year, with Project Carbon X 2 and WSER?
Finally, this particular year gave me the opportunity to try new things, and in particular the 100km road. I loved this experience! I intend to start over (PCX3?). In fact this road project not only brought me a little novelty in terms of training and destination (I had never been to the US before this year… now I have been there three times!), But it was entering also perfectly in my schedule for the year. My main goal for the year is the UTMB and, together with my coach, we especially wanted to focus on training, on flat speed. Indeed, having grown up in the mountains, I am more comfortable on a steep climb, so I wanted to work on my weak points, namely the flat and the low-technical descent. That's why I built my calendar for the year and therefore prepared for PCX2 and WSER, two races that seemed, at first glance, not for me at all.
Why UTMB this year? What excites you about UTMB? Makes you nervous?
Having already done the TDS twice, it seemed logical to me to switch this year to the UTMB, which is for me the hardest thing when it comes to Ultra Trail. If I had to make just one wish for my athletic career, I would choose to win the UTMB (and the Western States, and the Hard Rock! Lol!). For me, this is the biggest international meeting in terms of density, and it takes place right next to my home, in my mountains! All this effervescence and this very great desire to do well make me very excited and very anxious.
What are your goals for this year's race?
For this year of planning, I only have the UTMB left and my goal is to do the best I can. I won't hide from you that when I race it's never to participate, lol. I train almost every day, it is sometimes very difficult, I choose to put other things aside to try to perform at the highest level so it's not just to participate. But so much can happen in Ultra, you have to stay humble and focused on your run and feel, and if it has to happen it will happen.
What shoes will you wear?
I think I'll be wearing the Speedgoat Evo and maybe the Speedgoat 4 at the end of the race.
What's your favorite post-race treat?
After a race I love to eat a good pizza ... and a big ice cream or chocolate mousse!
Anything else you'd like to share?
Just a big THANK YOU to everyone supporting me around the world! Thank you for your kind messages of encouragement and / or congratulations. You might think it's nothing, but it's wrong! It means a lot to me and I am touched by each of them.